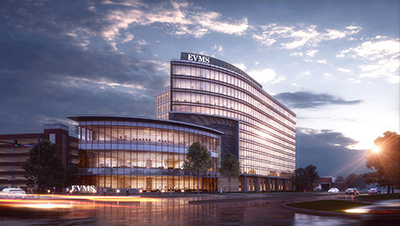 Medical Center Radiologists is the only academic radiology practice in Southeastern Virginia. As faculty of Eastern Virginia Medical School, our diverse group of physicians teach and mentor young trainees who desire to become radiologists. Through one on one instruction, lectures, and procedural training, our 50 members use their subspecialty knowledge and leadership skills to develop capable young radiologists who also strive for excellence in comprehensive patient care and high quality interpretive and procedural skills. Outside residency training, we also support the hospitals and local medical community in promoting high quality state-of-the-art patient care and in doing act as role models for our residents-in-training:
We routinely collaborate in multidisciplinary tumor boards where the latest imaging techniques contribute to an individualized plan for cancer patient care.
Our physicians have leadership roles in hospital quality initiatives, and each participate in peer review and maintenance of certification.
We routinely contribute to the advancement of medicine through research papers, participating in national trials, and grant supported scholarly activity.
Our interest in education includes not only the training of residents and medical students but also outreach to the medical community through seminars for primary care physicians and invited lectureships.
We work with other medical specialists to ensure our hospitals can offer cutting edge medical and procedural interventions through patient care and cancer care committees. Our members serve and lead many hospital committees whose mission is to improve health in our community.
Our members work with state and national level organized medicine and legislatures to ensure excellence in patient care.
Click on the *EVMS Diagnostic Radiology Residency* website to learn more about how Medical Center Radiologists are training future radiologists at Eastern Virginia Medical School.
Annual EVMS Radiology Updates and Accomplishments
2022 EVMS Radiology Residency Update and Accomplishments