Harut Gyurjyan, MD
Interventional Radiology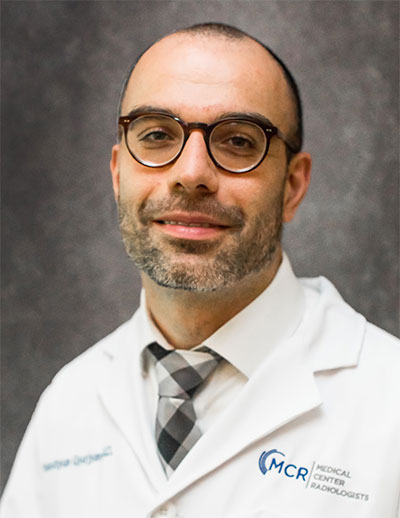 Dr. Gyurjyan is an experienced board certified Interventional Radiologist, having practiced in the Richmond, Virginia area for several years prior to joining Medical Center Radiologists.
A proud graduate of the University of Virginia, Dr. Gyurjyan earned high distinction in the field of Biomedical Engineering. After obtaining his medical degree from Eastern Virginia Medical School, Dr. Gyurjyan then completed medical internship, diagnostic radiology residency and Interventional Radiology fellowship at Virginia Commonwealth University Medical Center.
Patient comfort and education are driving principles of Dr. Gyurjyan's practice. He has experience in a wide variety of interventional procedures including complex chest/abdominopelvic biopsies and drainages, peripheral arterial disease, and deep venous disease. Dr. Gyurjyan has a particular interest in the treatment of osteoporotic compression fractures of the spine. Other areas of particular focus include minimally invasive image guided treatment of localized or metastatic cancer in the liver and kidney.
In his spare time, Dr. Gyurjyan enjoys exploring the outdoors with his family.
Medical School: Eastern Virginia Medical School
Internship: Virginia Commonwealth University Medical Center
Residency: Virginia Commonwealth University Medical Center
Fellowship: Virginia Commonwealth University Medical Center