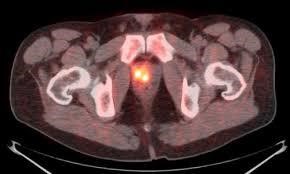 Axial 18F-Fluciclovine (Axumin) PET/CT Image demonstrating local recurrence of prostate cancer
Our Nuclear Radiology subspecialists offer extensive modern services in nuclear medicine and molecular imaging including general nuclear medicine, SPECT/CT, cardiac nuclear imaging, and PET/CT. Our expert teaching faculty in Nuclear Medicine at EVMS are training the next generations of radiologists and other physicians. We also enjoy participating in cutting-edge clinical trials which can offer our patients the newest molecular imaging radiopharmaceuticals that are not yet available outside the clinical trials. Recent examples include the ACR IDEAS study, which offered amyloid brain PET imaging assessing possible Alzheimer's disease; and a phase 3 clinical trial evaluating prostate cancer using 18F-PSMA PET/CT. We collaborate with many other specialists including interventional radiology, radiation oncology, multiple surgical fields, neurology/psychiatry, endocrinology, and oncology.
What is PET/CT?
Positron Emission Tomography/Computed Tomography, also called a PET/CT scan, is an advanced imaging tool that combines the functional imaging of PET with the anatomical information from CT. It is an effective way to show differences between healthy and diseased tissue.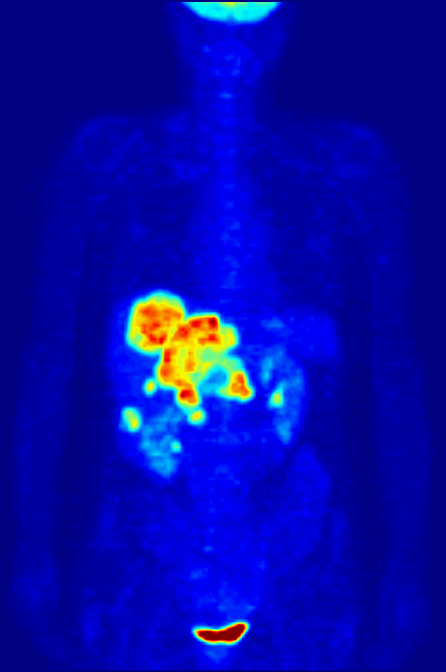 18F-FDG PET MIP showing metastatic disease
There are multiple different types of PET/CT scans available. Our radiologists are well trained and experienced in interpreting:
18F-FDG PET/CT
68Ga-DOTATATE PET/CT
18F-Fluciclovine PET/CT (Axumin)
18F-Florbetapir PET/CT (Amyvid)
What are some common uses of PET/CT?
Most commonly, in cancer imaging to help with staging and check for treatment response
For the determination of cancer risk in a pulmonary nodule
To evaluate the brain for memory disorders
Nuclear Medicine
What is Nuclear Medicine?
Nuclear medicine is a type of molecular imaging scan that uses a small amount of a radioactive substance to produce two or three-dimensional images of body anatomy and function. The diagnostic images produced by a nuclear scan are used to evaluate a variety of diseases. Sometimes a nuclear scan is combined with a CT scan. Nuclear medicine can also play a role in the treatment of certain types of cancers and non-cancerous diseases.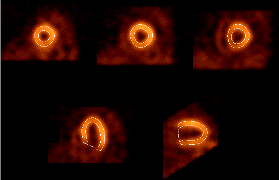 99mTc-Sestamibi EKG-gated SPECT images of the left ventricular myocardium showing normal myocardial perfusion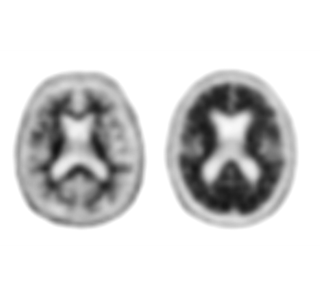 18F-Florbetapir (Amyvid) Brain PET evaluating for beta amyloid plaque imaging in Alzheimer's dementia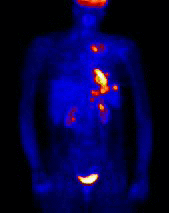 18F-FDG PET MIP showing metastatic disease
What are some common uses of Nuclear Medicine?
Nuclear medicine images can assist the physician in viewing, monitoring, or diagnosing:
Tumors, for example assessing for spread
Blood flow and function of the heart and lungs
Sites of possible infection
Organ function – of the kidney, bowel, gallbladder, thyroid/parathyroid glands, and others
Treatment of hyperthyroid disease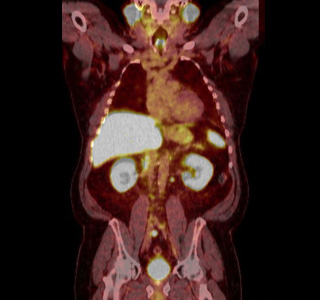 18F-PSMA Prostate PET Fused PET/CT Coronal Image showing lymph node metastases
PET/CT and nuclear medicine scans are types of molecular imaging with an array of unique tests to help manage various medical conditions. You may need to prepare ahead of time for some of these examinations.
If your doctor has ordered a PET/CT or nuclear medicine study for you, and are wondering about how you might need to prepare for the exam, please contact the imaging center where your scan is scheduled or contact us.
Download Patient Handouts
Thyroid Scan and Uptake: English | Spanish
Our Nuclear Medicine Radiologists