Lester Johnson, MD, PhD, FACR
Nuclear Medicine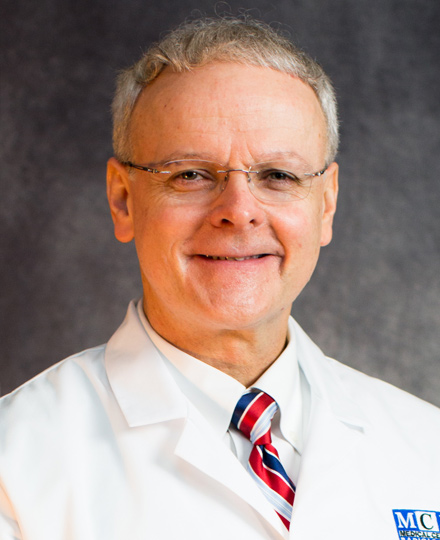 Dr. Johnson's greatest professional passion is practicing diagnostic radiology and nuclear medicine to provide the best possible care for our patients in Hampton Roads. As a nuclear medicine and PET/CT subspecialist, Dr. Johnson's interests span multiple organ systems.
A child of two public school teachers, Dr. Johnson's other greatest professional passion is in teaching and doing his best to support and help educate the next generation of excellent, dedicated physicians. Dr. Johnson moved to Hampton Roads to join Medical Center Radiologists (MCR) in 2001, in part because of MCR's role in teaching residents at EVMS. He was honored by the EVMS radiology residents to receive their "teacher of the year" award after his first full year on the job. Since 2005 he has served at EVMS as the Chair of the Department of Radiology and the Radiology Residency Program Director. Along with the other dedicated subspecialist expert teaching faculty members in MCR, Dr. Johnson takes great joy in the enthusiasm and outstanding accomplishments of the radiology residents and medical students at EVMS—and derives tremendous professional satisfaction and fulfillment from seeing them developing and succeeding in their careers—in service to providing superb patient care.
Dr. Johnson was honored to be selected to serve as a volunteer by the American Board of Radiology (ABR) and for many years worked as an Oral Board Examiner for the ABR in Nuclear Radiology and then as a question writer for the new ABR Certifying Exam. Dr. Johnson has also long served as Adjunct Professor at Old Dominion University (ODU), assisting in the Nuclear Medicine Technology Program to help educate the next generation of excellent technologists.
Other professional leadership roles for Dr. Johnson include serving for many years at the hospital system level as Medical Director of Nuclear Medicine and PET/CT, Chair of Radiation Safety, and Radiologist member of the Oncology Committee/HPT. Dr. Johnson has been honored to receive recognition as a Fellow of the American College of Radiology and in multiple years Coastal Virginia Magazine's "Top Doc" in Hampton Roads award.
Besides professional life, Dr. Johnson's greatest passion and fulfillment are his family—most especially immediate family, the loves of his life, his wife, daughter, and son. When time permits he enjoys multiple hobbies including, among other things, outdoor activities, traveling with family, movies and reading (some favorites including history, sci fi, and fantasy).
Academic Appointments
Chair, Department of Radiology, Eastern Virginia Medical School
Professor, Department of Radiology, Eastern Virginia Medical School
Adjunct Clinical Professor, Old Dominion University
Medical Director, Nuclear Technologist Training Program, Old Dominion University
Medical School: MD-PhD Program, Columbia University, College of Physicians and Surgeons
Residency: Columbia-Presbyterian Medical Center
Fellowship: Mallinckrodt Institute of Radiology, Washington University
Board Certifications: American Board of Radiology, with Certificate of Added Qualification in Nuclear Radiology; American Board of Nuclear Medicine